Rice Noodles Curry with Fish and Vegetables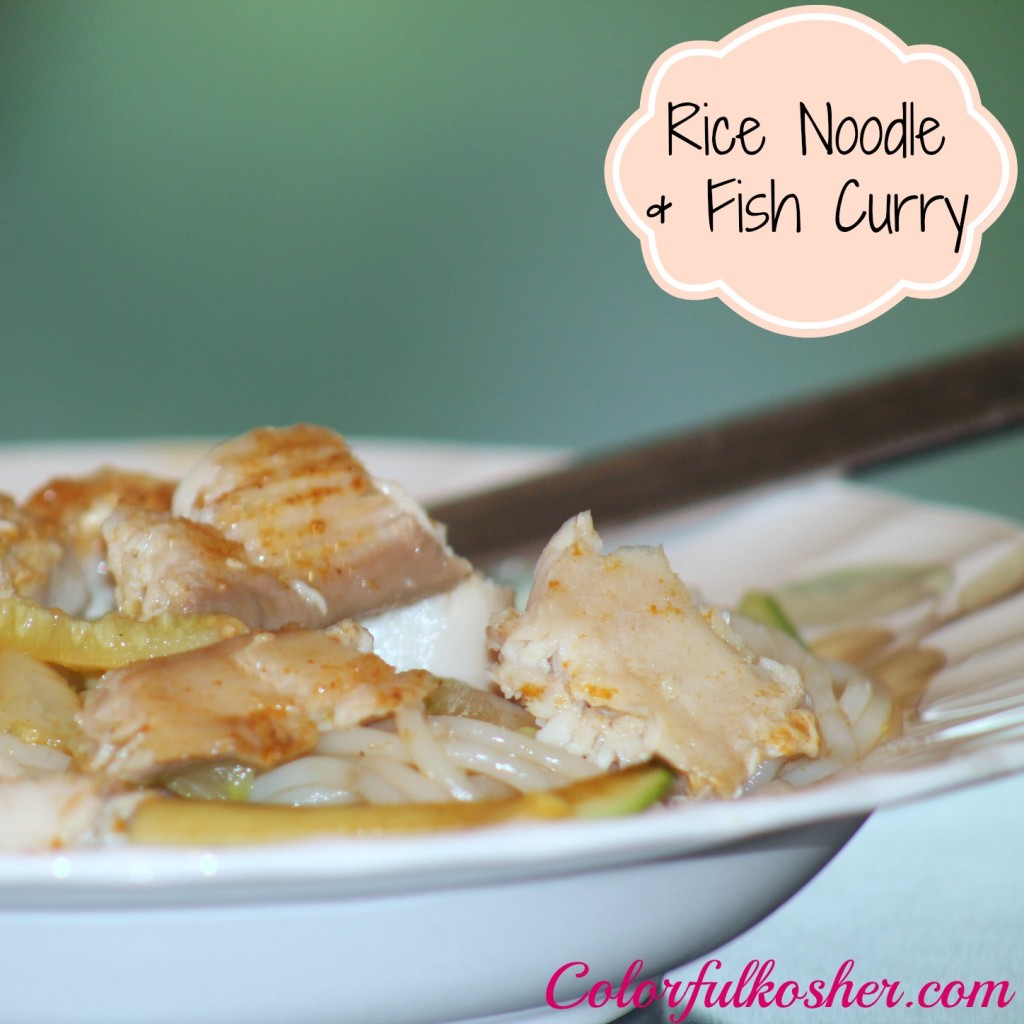 I wanted our first recipe post to be a good one.
So even though I have a bunch of recipes to post I held off until I had something special. I think this dish is it. In fact it was so good warm that I put some in the fridge to try out cold and will be serving it cold for our next community study session along with some other Asian favorites as sides.
Rice Noodles Curry with Fish and Vegetables
This Rice Noodles Dish is sure to please whether served hot or cold. Colorful, flavorful, and full of fresh vegetables it is a great start to a complete meal that stands out above the rest.
Ingredients
1 package Rice Noodles (I used 3 servings to feed two people and had a little left over)
1 Napa Cabbage (I used 7 leaves)
1 Medium Green Zucchini
1 Medium Yellow Zucchini
1 clove of garlic
1 Bullion Cube (I used a vegetable soup cube)
2 – 4 ounce pieces of fish (I used Mahi Mahi but this this would be amazing with most any white fish or salmon)
¼ of a bag of frozen peppers and onions (I am not a big fan of peppers but thought it would add some nice color and taste. Instead of buying fresh and only using a portion of each color with the rest going to waste I got frozen and will now have in case a recipe calls for it.) If you like peppers and will use them in salad or dinner another day then by all means get fresh.
1 tsp of Thai Curry (buy something pre-made don't try and mix the spices together yourself) (I used 2 tsp which was the right amount for people who like spicy food but if you are serving guest 1 tsp would be better.
4 oz of water
Sesame Oil
Instructions
Preheat Oven to 350 degrees.
Wash your vegetables Cut your vegetables into thin matchstick size strips. Don't worry about them not all being identical looking. Finely chop the garlic.
Boil 4 oz of water and add crushed bullion cube. Stir in the Curry and let cool.
Oil a pan and place your fish inside. Use a few teaspoons of the Curry sauce to coat the fish. Put it in the oven and set the timer for 20 minutes on 350 degrees.
While the fish is cooking boil the Rice Noodles.
Turn on your stove and add 1 teaspoon of Sesame Oil to the pan and let heat up. When the pan is hot add the clove of garlic and let cook so that it seasons the oil in the pan. Start steaming and then stir frying the vegetables. I say steam and then stir fry because you will want to give the vegetables room to cook in your pan so letting the vegetables steam a little by placing a sauce pan top over them will let them cook faster and then you can stir fry any liquid out of the pan. The garlic will be removed from the pan after the first batch but some of the garlic flavor will remain with the oil.
Steam then stir fry all of the vegetables. Depending on the type of pan you are using you might need to add more oil between batches. You don't want your vegetables oily but at the same time having them stick to the pan wouldn't be good either.
Check on the Rice Noodles. My bag said to cook them for 8 minutes but they were no where near done at that point so I left them in until they were the right consistency. I like the taste and texture thinnest rice noodle possible but you can use the thin wide Rice Noodles and it would work as well. You could also use Bean Thread Noodles if you can find them. Once the Rice Noodles are cooked you will want to wash them in cold water to stop the cooking process. Don't worry if they stick together you will be pouring hot sauce over them which will help them to unstick.
Heat the sauce up so that all the flavors come together again. Pour the hot sauce over the Rice Noodles. Toss the Rice Noodles to let the heat from the sauce unstick them and then toss into the cooked vegetables. Take the fish out of the oven and pour any sauce from the pan over the Rice Noodles and Vegetables. Cut the fish into cubes and toss into the Rice Noodles.
Serve hot in a bowl with chopsticks.
Notes
I made this for 2 as a test run but will be making this for 20 people in a few weeks. I will be using the entire head of Napa Cabbage, about 3 or 4 Green and Yellow Zucchini, carrots instead of the frozen peppers, along with a large onion. Since this will be for lunch not dinner I don't think I will be sticking with 4 oz of fish per person it will be more like 2 or 3 especially because other things will be served.
I am a fan of spicy food so not only did I use the 2 teaspoons of Curry but before eating this for dinner I added some more hot sauce.